I took the day off to spend the day with my wife because it's her birthday. We started the day with some breakfast at Perkins and then we spent some time doing some cleaning in our apartment to get us back to livable after our water problems from last week.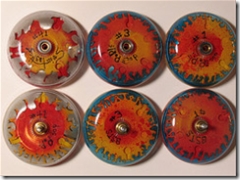 I also picked up another Hesitator today. My friend Matt Hedburg is selling off some of his yo-yo's and I was fortunate to snap the Hesitator up before it got on eBay. For those of you that don't know, the Hesitator is the Doctor Popular Signature Series of the Spintastic's Eclipse. There were 45 of them hand painted by Doctor Popular and now I own three of them. I remember when he was working on these in his place in Nordeast Minneapolis, the entry-way always stank of spraypaint and if you weren't careful you would step on one of these yo-yo's while they were drying on the steps down to his apartment.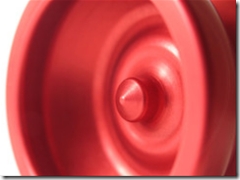 A few months ago I got an unfinished The Peak from Caribou Lodge Yo-Yo Works as a prize for the Yo-Yo Wiki Contest that I ran in January. I decided to take that raw yo-yo and have it anodized red and I just got it back from the shop the other day. I have been playing with this thing waay too much since I got it back on Monday, but alas I had to put it in the mail today so that the proper owner would have it. I hope you like is Anson, you've done some great work on the Wiki and you deserve it.
Tonight I am throwing a surprise party for Lindsay at Applebees. She doesn't read my blog, so I can say that safely. LOL! If your in the area and you want to come, we'll be there at 8pm at the Applebees on highway 96 in Vadnais Heights.
-Josh