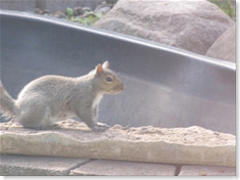 One of the biggest things that I have noticed about this new house is the number of squirrels. Our apartment up in Hugo had some squirrels, sure who doesn't? But Hugo is over-run by frogs and our development didn't have any old growth trees so most of the squirrels didn't hang around.
But in North Saint Paul, squirrels all over the place. You go outside and you have to fight two or three off with a stick just to get to the lawn mower, and then they tend to stay away… I guess they are kind of like Zombies. I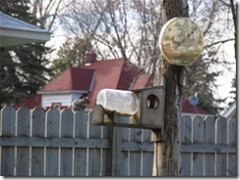 suppose the squirrel infestation could be caused by the two feeders we have in our backyard, but I'm afraid that if I take the feeders out then they will just get angry.
Sorry about the big gap in posting here, it's due to a few different things, all of which I will talk about now. First we moved. Then we painted. Then we unpacked. But overall I can't get my wireless router to work right now so I can't write on my laptop like I normally do and it took me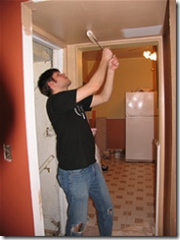 awhile to get motivated enough to install Windows Live Writer on my desktop.
So far the house is everything that we expected it to be, the first night we were here we tripped a circuit breaker because there is way too much stuff on one circuit. The closets are way too small, hopefully we will be able to remedy that with some constructive construction. And last but not least, this whole deal is really expensive. Yep, it's everything that we expected it to be.
The rest of my pictures are up on my flickr stream. Check them out.
-Josh