Hello.
Great news!  I a new camera!  It's a Canon 5D mk II which is a full frame DSLR from Canon that also does beautiful 1080p video with 23.97 and 29.97 frames per second.  Yeah, it's bitchin' camaro.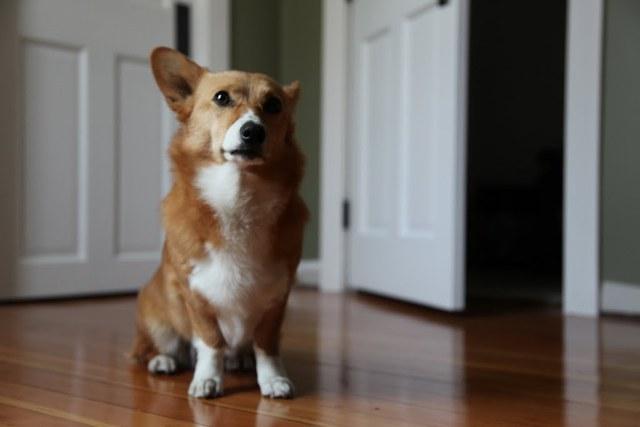 This first photo is one of my little doggy Ginger.  As you might well guess, we have taken a ton of photos of our dogs.  It's a sickness really, but they are often so cute and goofy that we really cant avoid it.
Also featured in this photo is the room that we have been working on.  You can clearly see the beautiful wood floor and the brand new doors and trim work.  The door on the left is a closet that previously did not have a door, so we added a pocket door.  It rocks.  We had the floor finished by Greg's Hardwood Floors in White Bear Lake.  I think he did a great job and I would recommend him to anyone.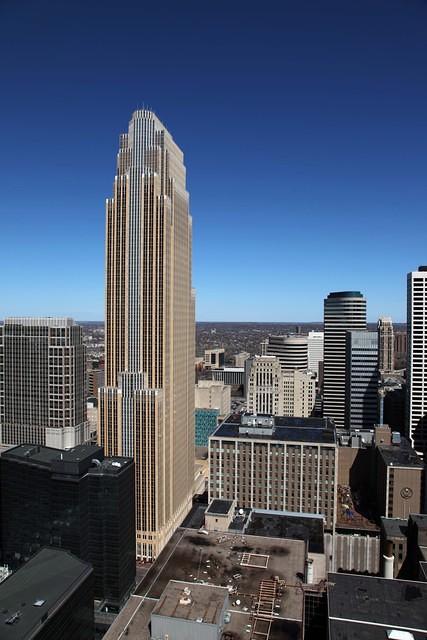 We also went out for a photo-walk with the new camera yesterday.  We started in downtown Minneapolis at the Foshay Tower.  If you are unfamiliar with the Foshay Tower I would recommend you look it up.  It is one of the most interesting looking buildings in downtown and it stood as the tallest skyscraper in the Midwest for 40 years before the IDS was built.  On the top floor is an observation deck that you can go out on for $8 and you get a fantastic view of the city.  The picture to the right here is of the Wells Fargo Center which is my favorite building when it is lit up at night.  The observation desk is totally worth the $8 price tag if you have never done it before.
After traipsing through downtown taking photos we went to Saint Anthony Main and took photos around the Stone Arch Bridge.
I have started a photo gallery for my photos which is presently located at http://photogallery.schalicto.com , comments are open, I'd love to hear what you think of the photos.  I am looking forward to taking more photos around the cities, if you have a suggestion of where I should take some photos please let me know.  There are tons of beautiful places in the Twin Cities but I can never think of any when I want to.  Or if you would like to join us for a photo walk that would be fun too!
That's all for now!
Cheers,
Josh